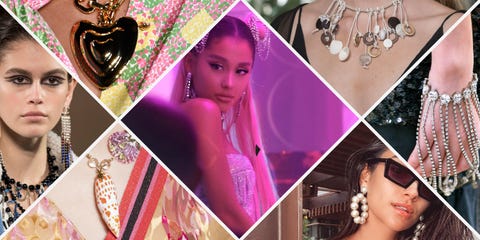 Getty Images;Instagram @ArianaGrande; Instagram @ShayMitchell
Dainty necklaces and classic hoops have been ruling the accessory scene for quite some time. But this spring, it's time to have some fun with your jewelry. From dripping, blinged out crystals to '80s hearts and seashells galore, this season's hottest jewelry trends are playful and unapologetically bold. Give your wardrobe an instant update with the help of these standout pieces to start shopping now.
Bling It On
Dripping crystal jewelry first made an appearance on the Spring 2019 runways and quickly took over Instagram thanks to Alessandra Rich's over-the-top earrings (which Ariana Grande later wore in her "7 Rings" video). From party-ready earrings to blinged out bracelets and necklaces, this nostalgic trend is all about being extra.
From top left: Alexandre Vauthier Couture, Miu Miu, Chanel, and Ariana Grande's "7 Rings" video.
Crystal Drop Earrings
Swarovski
swarovski.com
$90.00
Embrace your inner extra with these bold drop earrings that will look just as good with jeans and t-shirt as they do with a glam night-out look. 
Crystal-Embellished Tassel-Drop Earrings
Miu Miu
matchesfashion.com
$380.00
Bring on the color with Miu Miu's rainbow crystal drop earrings. 
Silver-tone Crystal Clip Earrings
Alessandra Rich
net-a-porter.com
$475.00
Ariana Grande's Alessandra Rich earrings from the "7 Rings" video unsurprisingly sold out, but this '80s-inspired pair is just as good. 
Modern Pearls
Pearls are back, but this season's are nothing like your grandmother's pearls. From delicate pearl hoops to ear cuffs and sculptural bracelets, the classic piece is getting a modern, reimagined update for spring.
From top left: Chanel, @Mizuki, Prabal Gurung, Oscar de la Renta
Pearl Huggie Earrings
Shashi
shopbop.com
$70.00
A playful pair of pearl hoops you'll want to wear every day.  
14-Karat Gold Pearl Earrings
Mizuki
net-a-porter.com
$625.00
Gold Pearl Ring
Saskia Diez
needsupply.com
$183.00
Try your pearls in an unexpected form: with a dainty, stacking-friendly ring.  
Pearl Hoop Earrings
Sarah Chloe
sarahchloe.com
$196.00
Featuring removable pearl charms, these hoop earrings are basically like two-in-one. 
'80s Hearts
Show some love in the form of chunky, oversized heart earrings. From the runways of Balenciaga and Escada to the cool girls of Instagram like Alyssa Coscarelli, the '80s-inspired trend is already proving to be one of the season's most fun.
From top left: Balenciaga, @alyssainthecity, Escada
Gold-tone Earring
Balenciaga
net-a-porter.com
$295.00
It only takes one of these Balenciaga earrings to make a full-on lewk. 
Build Your Own Heart Earring Set
Bauble Bar
baublebar.com
$78.00
Mix and match your heart earrings with this playful Bauble Bar set.  
Heart-Shape Earrings
An affordable take on the oversized heart trend. 
Beaded Heart Drop Earrings
Carolina Herrera
matchesfashion.com
$690.00
Go bold or go home with these oversized pearl and rainbow beaded heart earrings.  
By The Sea
The shell jewelry craze isn't slowing down anytime soon. From the runways at Altuzarra and Anna Sui to our Instagram feeds, this nostalgic jewelry trend is here to stay for the warm weather.
From left: @svnrshop, Altuzarra, Anna Sui
Gold-tone Shell Earrings
Isabel Marant
net-a-porter.com
$105.00
You'll want to wear these shell hoops whether it's summer or not. 
Gold-Plated Shell Necklace
Wald Berlin
net-a-porter.com
$227.00
A chic alternative to your '90s puka shell necklace. 
Large Puka Natural Shell Bracelet
Tohum
farfetch.com
$189.00
But for those who still love the puka shell look, Tohum's bracelets and necklaces make for a modern-take on the trend. 
Baroque Shell Drop Earrings
Anni Lu
farfetch.com
$305.00
Get two trends in one with these shell and pearl drop earrings. 
Single Shell Earring
SVNR
svnrshop.com
$110.00
Your vacation wardrobe called and it needs this single statement-making earring.