2019 will see a massive resurgence of styles from the 1990s — think bike shorts, high-waisted trousers, bodysuits, tie-dye, plus a shift towards responsible fashion.
It started about a year ago, when American designer Virgil Abloh, of the label Off-White, had Naomi Campbell sashay down the ramp with a blazer thrown over a pair of white biker shorts, for a line inspired by Lady Diana (the Princess of Wales loved her cycling shorts). The move seems to have set off a wave of nostalgia, and in 2019, the Spring, Summer and Pre-Fall 2019 collections of international labels suggest, will see a fl ood of throwback looks.
"Biker shorts will be the top trend," says fashion maven Jaya Raheja, of the garment that everyone from Madonna to Karisma Kapoor favoured back in the 90s. It featured prominently in the SS-19 lines of Fendi and Roberto Cavalli. Raheja adds: "Anything shiny — be it sequins, metallic [shades], satin or lamé — is big and will get bigger in 2019." Metallic textiles, on the runways of many top brands, dominated Kim Jones' Pre-Fall 2019 collection for Christian Dior. Menswear designer Rohit Kamra feels that coral, selected by Pantone as colour of the year, is a top choice for festive wear, and office shirts. He says, "The [2019] palette will also boast lime yellow, brick red and burnt orange. And, sequins may make an appearance in men's wear." Raheja and Kamra also predict that denim and tie-dye prints will be popular. Kamra's own collection includes denim Nehru jackets and breeches.
That denim is back in a big way is evident on the Instagram feeds of everyone from Parineeti Chopra to Kylie Jenner. And, tie-dye and acid wash were seen in the lines of Japanese brand Comme des Garçons, LA's new favourite Amiri, and French brand Pierre Balmain. White-on-white will also be a big 2019 trend. Balenciaga, Louis Vuitton, Dolce & Gabbana and Zegna — all had white suits for men, and Stella McCartney's spring line had allwhite ensembles too.
"Indian fashion reflects international trends in terms of silhouettes, cuts and the palette," says designer Samant Chauhan. He cites the example of the 'sari over leggings' trend, and says, "That will get bigger in 2019." Raheja says 2019 will also see the return of, "ruched clothing, highwaisted pants/jeans, bodysuits, baggy pants, leopard print, and exaggerated sleeves and shoulders."
There will also be a clear shift towards ecofriendly clothing, a trend that's been endorsed by Meghan Markle and Natalie Portman. "Faux fur and faux leather are being used heavily in apparel. Python and crocodile skin bags and shoes will soon be extinct," says Raheja. Indeed, Chanel has pledged that it will stop using exotic skins and furs from May. This 'responsible fashion' sensibility, too, is a throwback to the early 90s, when sportswear line Esprit led the movement by shifting to organic and natural materials. This time, let's ensure that this trend, at least, doesn't fade away.
—————————————————————————————————————————–
NOVEL SILHOUETTES

Expect innovation in design, as in these garments sported by Shilpa Shetty and Deepika Padukone
DENIM

Aamir Khan's Dil look is making a comeback; Kylie Jenner recently posted a picture of herself in this denimon-denim ensemble
CRISP WHITES

Varun Dhawan at IFFI 2018 in November; a model shows off one of McCartney's SS-2019 looks, complete with PVC shoes
SHINY

KJo knows that all that glitters is fabulous; A model in a Dior Pre Fall 2019 look
BIKE SHORTS

SRK and Karisma Kapoor in the 1997 film Dil To Pagal Hai; Cavalli, Spring `19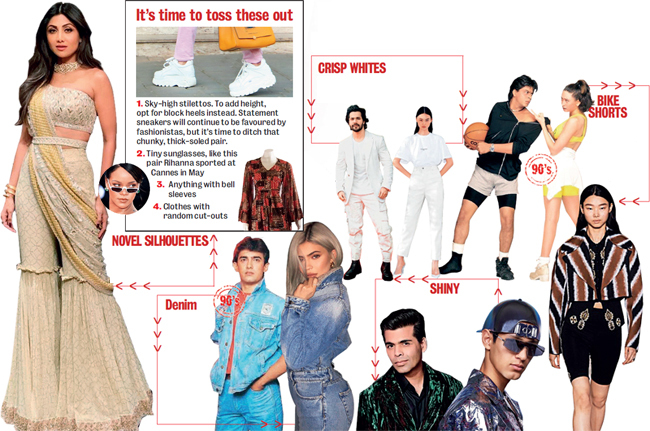 It's time to toss these out
1.
Sky-high stilettos. To add height, opt for block heels instead. Statement sneakers will continue to be favoured by fashionistas, but it's time to ditch that chunky, thick-soled pair.
2. Tiny sunglasses, like this pair Rihanna sported at Cannes in May
3. Anything with bell sleeves
4. Clothes with random cut-outs