By | Anindita Paul

Refresh your wardrobe with these fashion-forward tips
Some of Mumbai's most fashion-forward shed light on this season's hottest trends, which are certain to make you stand out this New Year's Eve.
█
FRINGE AND EMBELLISHMENT
"Flapper-style evening dresses are perfect for dancing, as are tasselled jackets. All-over fringe certainly isn't a look that everyone can pull off, and you could keep things simpler by opting for a fringe accent, or tasselled shoes or a bag," advises model Pratibha Mishra. A fringe jacket can add drama to an otherwise simple dress, while fringe skirts are flirty, feminine and definitely fashion forward.



█
BURGUNDY
Nothing says well puttogether like a well-tailored suit, which is also why the black tuxedo never fails to go out of style. This season, though, ditch the traditional black in favour of a wine-hued suit, advises Harssh Chheda of Corporate Collars. "Colours like maroon, oxblood and burgundy are quite trendy and let you attract attention. A caveat when experimenting with coloured suits is to keep the accessories simple – a lapel pin, and a silk pocket square or neck scarf are all it takes," he advises. Blogger Parinaz Kharas is also partial to burgundy. "Red is the new black when it comes to eveningwear; and for winter evenings, you could dip into the deeper reds. As the saying goes, there really is a red for everyone," she says.
█
GLITTER
The fashion world's obsession with all things glittery is unlikely to dim anytime this festive season, which makes glittery dresses a relatively safe bet. When wearing sequins, remember that sequins are, in themselves, a major fashion statement, which means that you can play it safe with the cut and colour of your dress. "A simple neckline and hem work best, as does a single-toned outfit, when wearing sequins. If you are a little conservative with your styling choices, you could pair your shimmery dress with solid black tights or tone it down with a solid blazer," suggests blogger Roma Jani.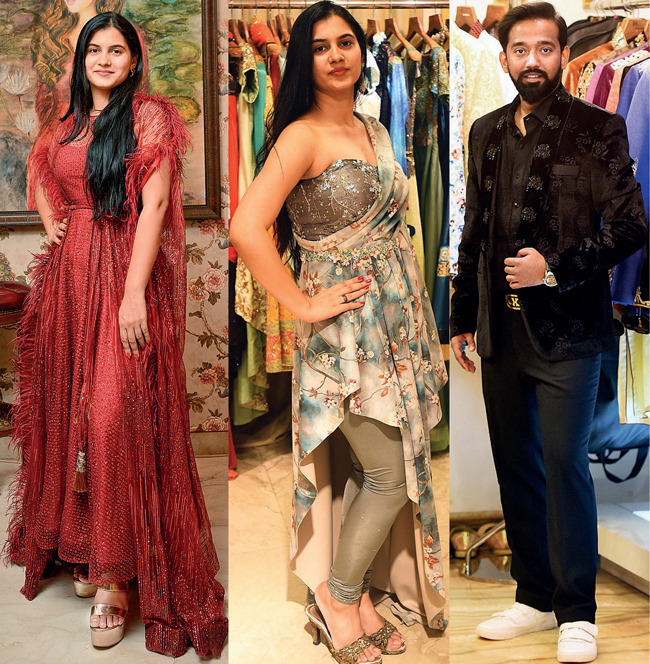 █
JUMPSUITS
Dresses may be a 'safe' partywear option, but the humble jumpsuit could easily earn you some serious style points. Choose a sleek and welltailored style that accentuates your figure. Don't shy away from bold accents — Puri highly recommends picking pieces that are embellished with faux fur and feathers to really stand out amid a sea of revellers. Add even more visual interest by topping your jumpsuit with a sheer cape or capelet.
█
WEAR PRINTS
"Leopard and exotic prints can create quite a stir when worn in asymmetrical styles. 2019 is all about not bucking to tradition, and it is only natural that this extends into your festive gear as well," says Designer Pria Kataria Puri. Sanjana Bubber of Bubber Couture also suggests opting for prints, whether in the form of bowties or shirts, for a dressed down look. "A printdetailed shirt with a contrasting bowtie looks stylish and easygoing. If you're looking for reusability, pick checks and plaid — the houndstooth print is back in fashion and looks great when worn on a jacket or a pocket square," she says.

█
VELVET
Puri adds that this trend works when combined with this season's hottest partywear colours — red and charcoal black. Experiment with swishing short dresses, jumpsuits or even embellished capelets, if you're feeling adventurous. This is one trend that is as well suited to men and women, observes designer Pranav Bagga of Pawan & Pranav Haute Couture. "Let your velvet jacket be the centrepiece of your look, and pair this with muted separates," he says. Loud, printed shirts are a complete no-no when paired with velvet. Blogger Suganadan Poojari also recommends experimenting with embellished velvet pieces to keep your look more contemporary.