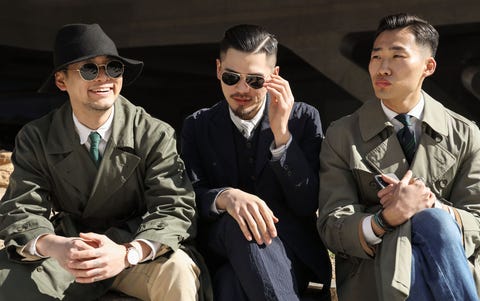 Hanna Lassen/Getty Images
Fashion Week has always been a pretty strange affair: it's essentially a glorified dress-up party where celebs, tastemakers, and industry elites prance around in their most style-forward threads while basking in each other's awesomeness for seven days straight (or for a full month, if you're hitting up all cities within the "Big Four," including Paris, London, Milan, and New York.)
Sure, it's still a pivotal industry event that dictates what direction the pendulum is swinging where global fashion trends are concerned, but a lot of that commotion has been reduced down to Instagram feed fodder–hot for a minute, forgotten about shortly after. In a climate where designer copycatting, overproduction, and a perpetually unquenched thirst for the "next new thing" are all commonplace, industry figureheads in the West are seeking for new inspiration in locales beyond their usual circles of interest—like Seoul, for example.
Established in 2015, Seoul Fashion Week has quickly garnered attention from prominent buyers, editors, influencers, and photographers from around the world. Thanks in part to the widespread popularity of K-pop and the booming Korean beauty industry, Seoul has become something of an "it" destination in Asia for trend-seeking travelers, joining the likes of Tokyo, Hong Kong, Shanghai, and Singapore. Its youthful energy and fearless approach to style make it a hotbed for emerging designers and unparalleled creativity.
"Korea's fashion industry is very young, so I think that there's still this genuine energy of people learning about and experimenting with fashion that more mature fashion scenes don't have," says Kuho Jung, Seoul Fashion Week's artistic director. "Street style is huge here, and you can see this when you go outside and see all of these kids doing this sort of cosplay and taking pictures of each other like they're in a photoshoot. It's actually quite fascinating."
Fascinating, indeed. See, for the city's denizens, fashion week isn't just reserved for seasoned media personalities and paparazzi-luring glitterati—it's a full-fledged family affair. Alongside the usual fashion victims posing to get their pictures taken in front of the event's main hub—the Zaha Hadid-designed Dongdaemun Design Plaza—are parents and toddlers who come impeccably dressed in hopes of attracting the flocks of shutter-happy street style photographers (which they do, of course).
"Koreans are very concerned about their personal appearance, so caring about how you dress and look is something we're taught from a young age," says Jung. "This applies to both men and women. In Korea, an interest in things like fashion, skincare, and beauty isn't stereotyped by gender—they're just general interests we all have."
This unisex sentiment was discernibly prominent across the roster of Fall/Winter 2019 collections that debuted on the SFW runway this season. Of course there were a few designers that specialized exclusively in menswear over womenswear (and vice versa), but overall, the Korean approach to design seems to factor in silhouettes that are appealing to both genders—think generously-fitted jacquard suiting, sportswear of the tech-fabric variety, and a smattering of experimentally cut poplin shirts. Most of the brands that show at SFW aren't household names (yet), but their ingenuity is on-par with what you'd find from any buzzy collection shown at the more-established fashion weeks.
"I was working abroad in Europe for a while, but I decided to move back to Seoul to give myself a fresh start," says Kang Dong Jun, whose label D.Gnak is stocked at well-known online retailers such as Farfetch, Ssense, and Yoox. "The fashion scene here has really grown and evolved so much over the years. People are more experienced, are improving their craft, and are paying attention to what trends are and will be big."
It's unclear what the future may hold for Seoul Fashion Week: it is, perhaps, unlikely that it'll ever attract an audience as globally significant as its Western counterparts. But one thing seems certain: If you're looking to broaden your horizons where modern fashion is concerned, you might want to add a trip to the South Korean capital to your bucket list.